Citation statistics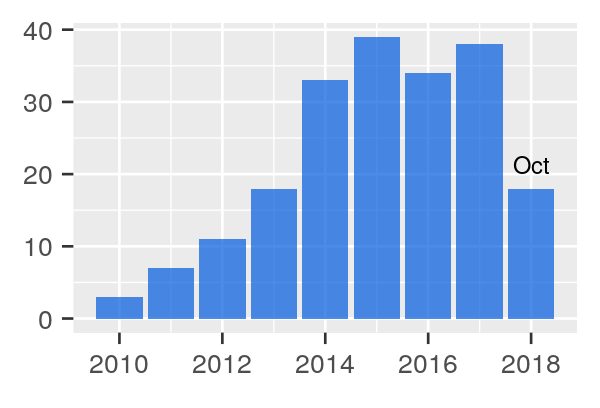 Citing the Toolbox
I would appreciate if you cited your use of the Toolbox in your work. Suggestion: Data analysis and visualization was aided by Daniel's XL Toolbox addin for Excel, version 7.3.2, by Daniel Kraus, Würzburg, Germany (www.xltoolbox.net). (Note: Please replace the version number with the version that you actually used; version 7.3.2 is the most recent version right now.)
Alternatively, you can also cite the article that I wrote for Medical Writing:
Kraus, D. (2014) Consolidated data analysis and presentation using an open-source add-in for the Microsoft Excel® spreadsheet software. Medical Writing, 23, 25-28. DOI: 10.1179/2047480613Z.000000000181
Live citations
Retrieve a list of XL Toolbox citations on Google Scholar.
(If you have used the XL Toolbox but cannot find your article here, you are welcome to e-mail the developer).
Ironically, the chart at the top of this page is made with R and ggplot2. This allows me to save time as I do not need to fire up a Windows machine and Excel to produce just this little chart.
2018
2017
2016
2015
2014
2013
2012
2011
2010