The 'Next Generation' of the XL Toolbox add-in combines all-new and improved features with legacy functions of the older versions.
All-new import and export features

High-resolution graph export
The XL Toolbox graphic export feature enables you to export charts and other graphic objects at high resolution, ready for scientific publication in print media. In the Next Generation, graphic export has been vastly improved.
It is now possible to define reusable presets. Transparency is now supported as well. As in the old version, you can even export using the CMYK color model – many journals require this.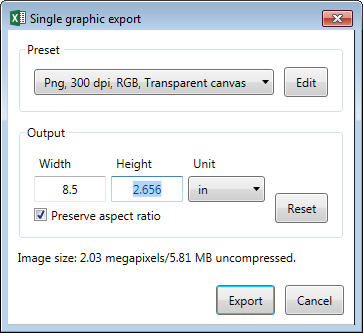 New CSV import and export
If you ever struggled with exporting your data into comma-separated (.CSV) files or opening .CSV files with a number format that did not match your system's language settings, the XL Toolbox is now to the rescue.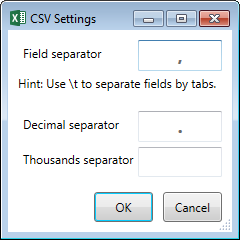 Want to export multiple charts at once? No problem. You can even export your charts as one big graphic file, preserving the layout from the worksheet. This is very useful for multi-panel figures.
Of course you may re-use the same export settings that you defined for single graphic exports.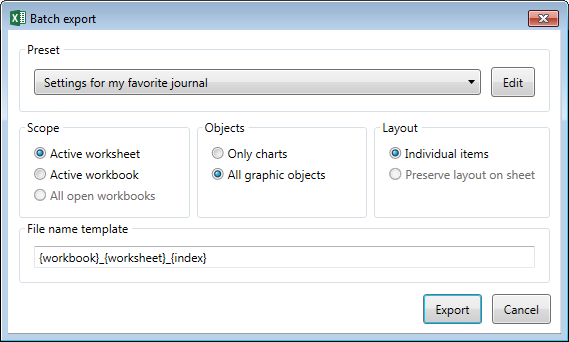 New productivity features
Worksheet manager
Daniel's XL Toolbox makes it easy to work with lots of worksheets in a single file. While Excel's built-in worksheet dialog, which is accessible via right-clicking in the lower-right corner, offers not much more than activating a worksheet, the Toolbox' worksheet manager will always be visible and help you with adding, deleting, renaming, and re-ordering worksheets.
Daniel's XL Toolbox' worksheet manager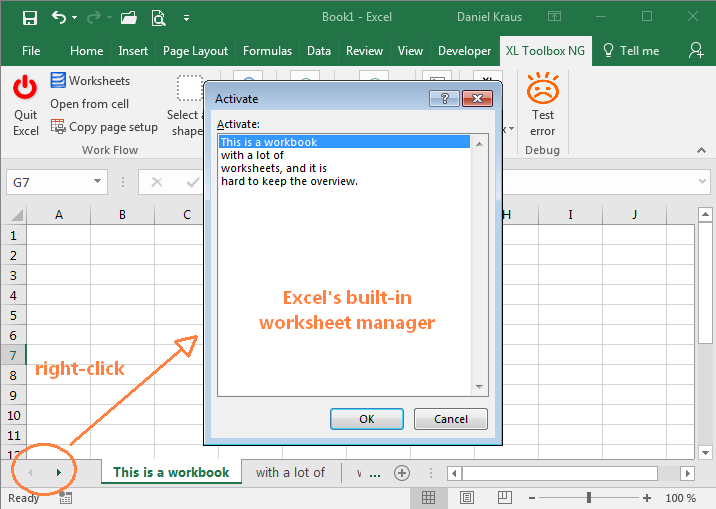 Excel's built-in worksheet manager

Quitting Excel can be cumbersome if you have multiple workbooks open. The XL Toolbox NG offers a 'Quit Excel' command that enables you to quit Excel, discarding all changes, saving all workbooks, or interactively asking you what to do. You don't need to click the close button for each and every window any more.
Legacy features
As of version 7, the Next Generation incorporates a number of legacy features such as ANOVA, formula builder, errors bars, group allocation, etc. These are seemlessly integrated in the Next Generation. Over time, all of these shall be replaced by new and improved versions in the Next Generation.
Requirements
The XL Toolbox now requires Excel 2007 or newer. Excel 2003 is no longer supported by Microsoft and really should not be used any more at this point.
License change
Daniel's XL Toolbox versions up to 6.70 were released under the famous GNU General Public License.
The Next Generation (starting with version 7) is released under the Apache License 2.0. For end users, this does not really mean anything: The XL Toolbox remains open-source software, free of charge. The Apache license makes it much easier to combine the XL Toolbox with software libraries, avoiding the need to re-invent the wheel.